Map: T.Tinker, Manchester 1772.

FRIEDRICH ENGELS

Resources for Further Reflection and Discussion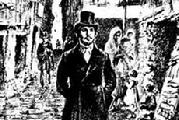 Engels visits working class quarters in Manchester.
See the walking tour or devise your own, following the model of Engels. Is your city constructed in such a way that poverty is kept from the eyes of the wealthier citizens? Or must Engels' analysis now be mapped globally-are there "third world" cities that do the dirty work for those who live in first world cities?


copyright 2007-2021 Sharon M. Meagher, Ph.D.
Every effort is made to keep all links and resources up-to-date. Please send corrections or suggestions to me. Thank you.